Southern stylists dream of going to fashion week. How about a trip to New York City?
Yep, another fashion week has come and gone and this southern fashionista was able to enjoy it once again from a few of my favorite media peeps aka E News, Style Network, and the amazing Joan Rivers on Fashion Police.
Thanks for the low down on all the up and coming trends for the Spring. What would this southern gal do without all this information?
Oh, to be a fly on the wall at this event. Heck, if I was a fly I would just buzz my little self on over there for all the fashion 411s, watch out Joan Rivers!
Well, while I enjoyed living vicariously through my TV I can assure you I have some great affordable tips for this year's spring fashions.
Watch out Hollywood here comes Alabama's fashion finds with a classic (wearable) twist. We all know that there is some crazy stuff on that runway. Until I catch that red eye or turn into that fly on a wall, enjoy these affordable styles!
—-
Head-to-toe white
The slender all-white pants that picked up in popularity last summer have evolved for next spring/summer into all over white ensembles.
Some designers added visual interest to this blank canvas with sheers, honeycomb meshes, eyelets and cutouts.
CSC – I have a feeling as the season kicks in that this might be broken up with a fun color or two (or at least I hope it does).
There is no way I am stepping out in head to toe white, sorry designers. I am constantly on the go, sweating and dragging a little boy around town, which in return gets me dirty from time to time and that means major dry cleaning bills, don't think so!
I get the idea of the skin showing, but not everyone wants to show skin when they are waking up to the real world. With that said, I like head to toe white but lets break it up a little. And if you have to have some skin showing make sure its classy and conservative.
This is the perfect head to toe all white look. The neutral shoe breaks it up a bit along with the fun iliac detail of the blouse.
Here is a cut out that is more appropriate and classy. The dress is long and elegant so it gives you more coverage with a little tease of sexy skin.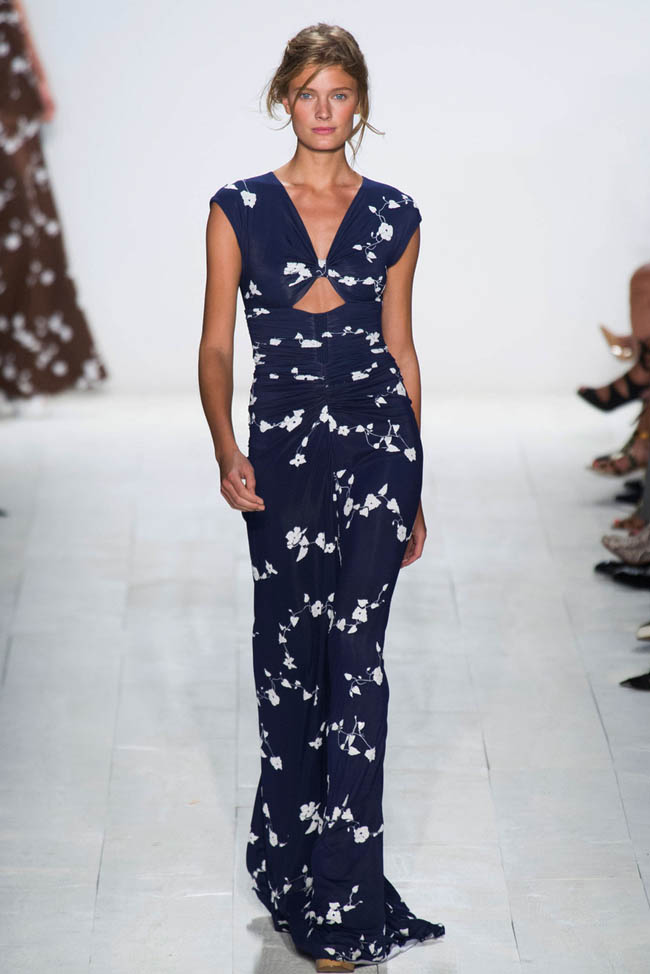 Flowing and feminine
Many collections were a celebration of feminine form and elegance, making 2014 a good year for the fashionista who's a girly girl at heart.
Dresses featured fabrics with fluid movement, thanks to shoulder-to-floor capes, tiered layers and skinny pleats. V-necks and/or exposed backs provided a dose of modernity and sex appeal.
CSC – Yes! I am such a girly girl…bows, lace, flowy ,feminine and a little skin showing. Sounds good to me. Once again I am sure each of us have a seasonal outfit or two with this look or style.
Black and White
The yin and yang of colors unite in looks that layer blacks and whites. Sometimes a black top was matched with a white bottom, or vice versa. Other outfits had one of the hues as the backdrop for a bold pattern done in the contrasting color.
Some designers used the colors to balance one another, with white softening predominantly black apparel and black acting as an edgy accent to whites.
CSC – Yes, I am all about this. This is simple, easy and ready to wear. We all have black and white hanging in our closets now, so break them out and have fun with them.
Love these looks below.
Colors for spring
Color report is a combination of soft pastels and vivid brights.  Here is what has been predicted as the season's top 10:
Placid blue
Hemlock
Sand
Freesia
Cayenne
Celosia orange
Radiant orchid
Violet tulip
Paloma
Dazzling blue
CSC – These are great colors for everyone.
Belly-baring tops
Designers are trying once again to give a  go to the crop top, uggggh! Why? This is one style that they can keep in the closet or on the runway.
CSC – Side note on the belly-baring top would be a big fat No!, for this Southern Gal. I kind of wish that it would go away. Like it or not, that's my opinion.
This is a bit more conservative with the belly bearing. More my style.
Nature and global-inspired prints
Florals of all kinds  cropped up on clothes, coloring many collections with an air of romanticism and femininity. Florals combined with plaids was one unusual-yet-popular (and attractive) pairing. Strong geometrics, as well as tribal and Safari motifs, were other patterns that wallpapered pieces.
CSC – Floral is the perfect print for every season. The great thing about this style is everyone probably has it hanging in their closet.
A smattering of sparkle
Like a shimmering sunset, some designers wove in shine with beaded detailing and metallic fabrics. What was missing, however, was the abundance of heavily sequined selections, a staple of wardrobes in recent seasons.
CSC – Who doesn't love a little sparkle in their wardrobe. Break it out ladies, you might even have a something seasonal that has a little bling on it that you can transition into the spring. (Don't pack up all your winter and fall wear)
Monochromatic brights
It appears colorblocking could take a backseat next year to colorful solids. Primary colors were prominent, with the occasional full neon look  (e.g., lime and orange, mostly), resulting in a rainbow parade down the runway.
At the opposite end of the color spectrum, pastel hues — icy blues, mints, citrons, lavenders and powder pinks — infused styles with sensuality and softness.
CSC – I am ok with color blocking taking a back seat but, I also think that it's fine to do it in small doses for the spring. Meaning: jewelry or accessories will break up that head to toe primary or pastel look.
Basically, stay away from be too matchy with your accessories.
Casual, sporty silhouettes
Keep cool and comfortable in warm weather months with clothes with relaxed fits, sometimes matched with slimmer, more dressed-up tops and/or bottoms for some laid back-meets-luxe contrast.
Some designers took sporty to the extreme with basketball jersey-style dresses and tanks, wedged high-top sneakers and fashionable takes on track pants and baseball jackets.
CSC – I say this is fine, just make sure it is feminized a bit. There is nothing wrong with a soft, sporty look. We probably have a few of these items hanging in our closets; Look to your nicer gym or yoga clothes and style it up.
Retro remixed
From faded floral patterns that channeled the  spirit of the 1960s to oversized sunglasses and floppy sun hats, designers got creative with retro references.
Peter pan collars and  midriff tops, as well as some denim, were other incarnations of styles from decades past.
CSC – I love vintage, but keep it simple and not dated. You don't want to look like you came out of a time machine.