I have always enjoyed stepping out of the box a little bit when it comes to my fashion. The key is that I am happy with my style, along with being comfortable and confident.
It took me taking baby steps to really appreciate and learn to step out with CONFIDENCE when it comes to putting together my look.
Now, I wouldn't say I am extreme with my clothes , I do, however, enjoy putting a different spin on my style from time to time. And, I think the fact that I started off taking baby steps has allowed people to understand  my creativity when it comes to my fashion.
Being confident and creative has allowed me to try different types trends that are tasteful but understandably noticeable.
My clients always tell me the one thing that they would like, is to step out of their basic look and transition into a new look that works for them, their body type and of course their personality. 
When I talk to them about this simple change, assuring my clients or blog followers that it's not about changing them, it's about changing the way they look at fashion. It is also about incorporating new changes to fit them, their personalities as well as their lifestyle with the idea of being comfortable with their new changes.
Starting off small will open up many doors when it comes to a new transition. This will also allow them to enjoy the new trend that he or she has always wanted, but without the stress of trying to over do it. 
The key to trying new fashions are taking simple baby steps. Because let's be real…Change can be hard. But, fashion can be a fun and simple change without the major stress.
1. Start With Prints and Start Small
You can combine small prints into your accessories like a belt, purse, shoe, jewelry or scarves.
When you start small this will allow you to adjust to the possibility  of incorporating larger prints into your wardrobe.
2. Add Pops of Color
This is the same as prints. Keep your pops of color simple and work your way up to possibly mixing in those colors with your prints.
3. Enjoy a Little Color Blocking
A great tip I give my clients….Find a print on an article of clothing that you have hanging in your closet. Check out how the designer combined different colors in that print.
This will allow you to get an idea of what colors you can mix together when it comes to mixing up your style. Small steps of color blocking can be very beneficial .
Start with something solid and incorporate colored accessories here and there.
Use the color wheel for an example of mixing up your colors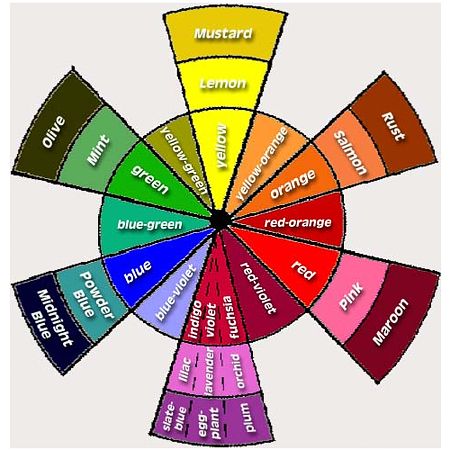 Colors directly next to each other
yellow and yellow-orange; yellow and yellow-green; violet and blue-violet, etc.
Colors that form right (90 degree) angles with each other
yellow and red-orange; blue and violet-red; green and orange, etc.
Colors directly across from each other
yellow and violet; blue and orange; red and green, etc.
Colors that form a T.
blue, orange, and violet-red; yellow, violet, and red-orange; yellow, blue-green, and red-orange, etc.
Colors that form an X
blue, orange, violet-red, and yellow, violet, blue-green, and red-orange, etc.
4. Research
When it comes to mixing your prints and your colors I would research. Fashion magazines, fashion blogs, Pinterest, or ask someone that knows his or her fashion 411's.
5. Experiment
Don't give yourself just one style, try different types of fashions and accessories.
See how easy it is to transition prints and colors into your simple style. Try these baby steps of changes . Don't be afraid to step out of that fashion box.
These are just a few simple changes that I know you can mix into your wardrobe.
xoxo
God Bless,
Laura