At some point in our lives we get in a fashion slump.
We sit and look through the many clothes in our closet and think to ourselves "I have nothing to wear" or maybe you even say "I think it's time to go shopping".
I know I get that way from time to time and get very overwhelmed when it comes to my wardrobe.
Most of the time this means it's time for a closet clean out or maybe it's just time to get your closet organized.
Doing this will help you determine what you need to part with and it can also help you piece outfits together that you never knew you could wear together. Don't think of it as an inconvenience in your day, make it fun.
Here are a few ideas in how to make your closet clean out and wardrobe organizing a bit more fun.
Clean Out Mid Season
I think this is the best time to get rid of the old and replace with the new.
Plan out your weekend or your day to allow yourself to concentrate and have time to work through your wardrobe. Have a plan of action when it comes to how you want to organize your closet.
Have Fun
I know, it sounds crazy, but I promise it's not. Go in with a great attitude, clear your day out, and know that there are several options or ideas for the items of clothing you will be departing with or keeping.
Enjoy listening to your favorite music or maybe even have a organized friend or relative come over to help.
Make a Plan
Find some closet organizational ideas online.
Plan out what you want to do with your clothes that you choose not to keep.
Take to your local consignment store, maybe sell them online, or have a fun girl's night with a clothing swap.
This will allow you to make money to purchase new items in your wardrobe or maybe just have an opportunity to spend time with friends and see what styles they have to offer.
Make Everything Viewable
Obviously,you can't keep every single piece in full view, but try to arrange your wardrobe so that you can see as much as possible.
Maybe even make the items that you would like to wear more often more visible one month and then switch out with the other items that are not as visible the next month.
This can consist of the simplest items in your closet like t-shirts, blouse, skirts or pants. This will also help you come up with new outfit ideas without spending money on items that you probably already have but just forgot about.
Maybe even set a reminder to move those articles of clothing at the end of the month.
Organize Your Accessories
If you don't display your accessories, your outfits may lack uniformity.
I always tell my clients that shoes, jewelry, and accessories are the glue that holds your outfits together. They can make any outfit look stylish and polished.
These items are always affordable and are an easy way to change up your wardrobe. However, we often tend to lose them in our closet or forget we bought them at some point in time.
Find a way to keep those accessories in your sightline. They will help you craft new and unexpected outfits. Research on-line and find fun ways to display these important items in your wardrobe.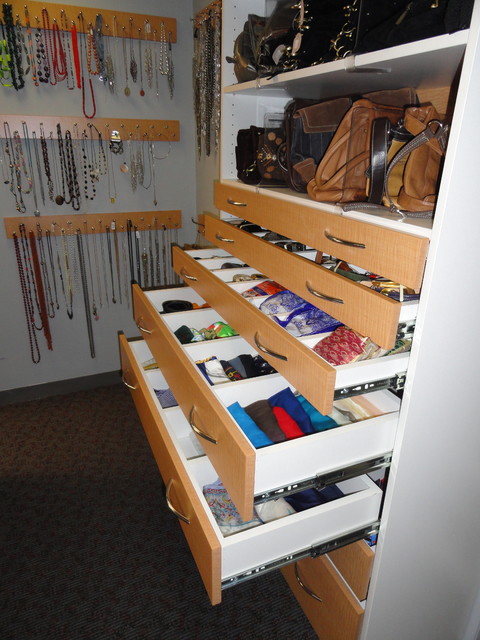 When I work with a client, sometimes they tell me that they have few things in their closet that they love. That they have only a few go-to outfits.
Maybe they need to go shopping for more options or maybe they just have a hard time putting the outfits they have together.
After a couple of hours of pulling hidden gems from the back corners of their closets, getting organized and unearthing some neglected accessories or articles of clothing that have been forgotten, they realize they have a lot more to choose from then they would of ever imagined.